How To Learn Kriya Yoga Meditation?
The key to progress is regular and correct practice. My role is to guide students through this journey and since each student is different, I teach meditation adapted to the capabilities of each student. This means that often students learn 1st Kriya in steps. Once a step is well understood, the next step is introduced.
The overall process for learning is as follows: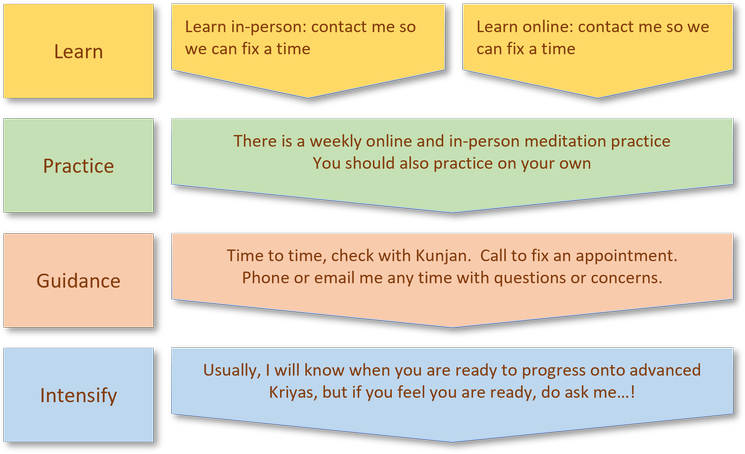 Weekly Guided Meditation Sessions
Weekly guided group meditation sessions are run once a week via Zoom. Depending on time zone, multiple weekly sessions are possible
To attend the weekly sessions, you must first learn Kriya meditation.
It is highly recommended that students attend. The weekly sessions bring my students together. For the students it helps encourage regular practice as well as providing a calm anchor.
Conditions for Learning
I am passionate about ensuring that my students make the best possible progress. I am also passionate about ensuring that, the technique and teaching it is maintained at the highest possible level.
For these reasons and based on some traditional customs of India, if you learn from me, then you agree to abide by three rules, which are:
You do not discuss your results and inner experiences with anyone else, unless the other person is a genuine Kriya or spiritual master. This protects you, other students and potential students.
Very few inner experiences are genuinely spiritual. Many are sourced from deep seated emotions and the mind. This is normal and to be expected, however sharing such experiences often sets expectations within the listener that they too should experience the same. These expectations then create congestion in their practice resulting in confusion over Kriya practice outcomes.
You do not teach Kriya nor share any notes, instructions and media with anyone. Authorization to teach is only given after achieving advanced stages of realization, which typically takes many years. This protects both parties. Teaching and guidance is never done for commercial gain. It is provided to help people.
The primary reason all students start Kriya Meditation is to achieve spiritual realisation. Somewhere along the way, some may develop a desire to "help others" or perhaps, decide that teaching meditation for a living is the ideal.
If you are teaching to making a living, then your teaching is already compromised and biased. When you don't receive sufficient income, you may "innovate" and cross-sell unrelated things such as ayurvedic cosmetics and supplements. One only has to look at the websites of many teachers such as Sri Sri Ravi Shankar, Sadguru or apps such as Calm and Mindspace. Many meditation apps are replete with superficial so-called guided "meditations". These are mainly auto-suggestion and relaxation based.
If you teach without having achieved substantial realisation, then you will pollute your own practice and progress. Teaching and engaging with a student is a very serious commitment at a deep and subtle level. It requires a level of maturity on the part of the teacher which is typically lacking in someone under 35 years of age.
You never modify the practice, except where agreed with the teacher or someone else equally qualified. This preserves the sanctity of the technique for future students and your progress.
Today Kriya "teaching" exists in three flavours: Yogananda - SRF, Sri Yukteswar and Lahiri Baba.
The Yogananda approach is suited to sedentary people who have limited understanding of Vedic philosophy. Students must study weekly lessons for one year before receiving Kriya instruction. Since the passing of Paramahansa Yogananda, it is unclear if SRF and it's offshoots such as Ananda have the knowledge or capability to offer higher guidance. Indeed, Yogananda himself, stated very clearly that after his passing, there would be NO Kriya guru to succeed him in SRF. There also seems to be much divergence from the original teaching.
The Sri Yukteswar approach is ideally suited to people who are reasonably healthy and actively switched on to spirituality, stress management, hatha yoga etc.
The Lahiri approach, was ideal for an earlier age when the pace of life was slower and quieter. If one is already spiritually inclined, then both the Lahiri or Sri Yuktesware approaches are equally effective.
Aside from these three variants, there are innumerable teachers some of them well known Swamis and authors, who claim that their approach is the original, genuine and correct technique. Fast forward a few years and the same teachers, teach modified, updated versions whilst still claiming that they are teaching the original technique! If you are "faking it till you (maybe) make it", you could end up wasting many years of a student's practice and you will harm your own development.
Note that many types of meditation using the word "kriya" have nothing to do with Kriya Yoga from Lahiri's lineage. Examples include "Sudarshan Kriya" by Sri Sri Ravi Shankar and "Isha Kriya" by Sadhguru. There are others that use the term "kriya" too. Within hatha yoga, there are "kriyas" and these are internal cleansing routines that again have nothing to do with Kriya Yoga Meditation.
I have also seen students who weave bits and pieces of other techniques within 1st Kriya. It is unfortunate to see such students make little to no progress, especially after many years of practice, and no matter how much I explain, they never quite change.
I have not changed the Kriya technique that I teach since the very first time I learnt it from my teacher. There is no need, if one practices correctly and with the right attitude.
Cost
I typically spend two 5-6 hours sessions with students. We will go quite deep into understanding spirituality and you will learn 1st Kriya. The cost of this is shown here.
This initial teaching is then supported by guided meditation recordings and regular weekly meditation, excepting vacation days.
I cannot guarantee, but have so far provided continual guidance and support via email, phone and check-ups to all my students as they progress in their spiritual journey. Some of my students go back 15-20 years!!
All payments must be made in advance. If you are under financial stress, then let me know.
Currently, there is no charge for the weekly meditation sessions and on-going guidance. At times, my students wish to make donations so please use the donation button below for this purpose.
Questions and Answers
Once you have learnt the technique, I can usually be reached by phone and e-mail whenever you have questions.
Ensuring Progress
It's important to have checks now and again – there is no fixed interval. Call me to fix a rendezvous.
Live Outside Switzerland or Too Far
If you live outside Switzerland and are interested in learning, contact me as I am happy to run seminars in other countries or via Zoom.
You have learnt Kriya from someone else and ...
If you have learnt Kriya from another teacher, you may still be able to join the regular practice sessions. If you have questions that remain unresolved with your own teacher, then feel free to reach out to me.