How To Learn Kriya Yoga Meditation?
The key to progress is regular and correct practice. My role is to guide students through this journey and since each student is different, I teach meditation adapted to the capabilities of each student. This means that often students learn 1st Kriya in steps. Once a step is well understood, the next step is introduced.
The overall process for learning is as follows: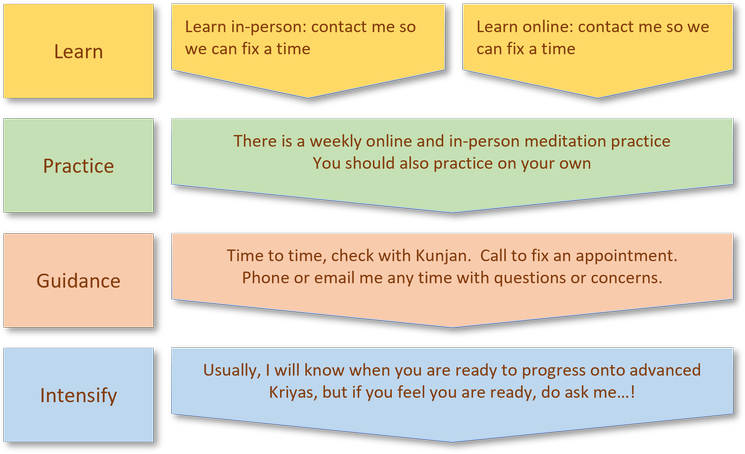 Weekly Guided Meditation Sessions
Weekly guided group meditation sessions are run once a week via Zoom. Depending on time zone, multiple weekly sessions are possible
To attend the weekly sessions, you must first learn Kriya meditation.
It is highly recommended that students attend. The weekly sessions bring my students together. For the students it helps encourage regular practice as well as providing a calm anchor.
Conditions for Learning
I am passionate about ensuring that my students make the best possible progress. I am also passionate about ensuring that, the technique and teaching it is maintained at the highest possible level.
For these reasons and based on some traditional customs of India, if you learn from me, then you agree to abide by three rules, which are:
You do not discuss your results and inner experiences with anyone else, unless the other person is a genuine Kriya or spiritual master. This protects you, other students and potential students.
You do not teach Kriya nor share any notes, instructions and media with anyone. Authorization to teach is only given after achieving advanced stages of realization, which typically takes many years. This protects both parties. Teaching and guidance is never done for commercial gain. It is provided to help people.
You never modify the practice, except where agreed with the teacher or someone else equally qualified. This preserves the sanctity of the technique for future students and your progress.
Cost
I typically spend two 5-6 hours sessions with students. We will go quite deep into understanding spirituality and you will learn 1st Kriya. The cost of this is shown here.
This initial teaching is then supported by guided meditation recordings and regular weekly meditation, excepting vacation days.
I cannot guarantee, but have so far provided continual guidance and support via email, phone and check-ups to all my students as they progress in their spiritual journey. Some of my students go back 15-20 years!!
All payments must be made in advance. If you are under financial stress, then let me know.
Currently, there is no charge for the weekly meditation sessions and on-going guidance. At times, my students wish to make donations so please use the donation button below for this purpose.
Questions and Answers
Once you have learnt the technique, I can usually be reached by phone and e-mail whenever you have questions.
Ensuring Progress
It's important to have checks now and again – there is no fixed interval. Call me to fix a rendezvous.
Live Outside Switzerland or Too Far
If you live outside Switzerland and are interested in learning, contact me as I am happy to run seminars in other countries or via Zoom.
You have learnt Kriya from someone else and ...
If you have learnt Kriya from another teacher, you may still be able to join the regular practice sessions. If you have questions that remain unresolved with your own teacher, then feel free to reach out to me.