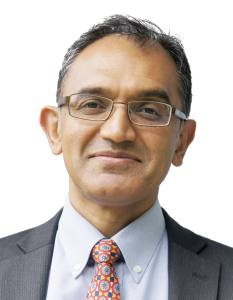 Without quite realizing it, I started meditating at the age of nine. Today after fifty years of practice, I no longer need proof, emotional faith or intellectual models to support me in my practice. I feel balanced.
I remain a student of spirituality and associated sciences such as hatha yoga, ayurveda and vedic astrology.
Other than this, I am a typical working family man…! To find out more about my professional career, please see here.
I live and teach in Switzerland and in other countries around the world. Feel free to contact me for more information.
My mission in teaching meditation is simple. I would like all my students to reach the highest stages of self-realization and in doing so to achieve peace and serenity in all that they do and all that life throws at them.
CEO
Kunjan has been a great teacher on my Kriya path.
My recent life has been marked by many personal and professional challenges and meditation has given me the calmness and stability to make it through. With frequent encouragement from Kunjan, I have been able to develop a steady practice routine from which I derive joy and peacefulness. I feel that my physical body functions better as a result of my practice and emotionally I have been so much more stable.
Though I have been a real mess at times, so it is easy to improve from such lows. I don't think the Kriya path is for everyone, but Kunjan makes it accessible to the brain and to the heart. He really cares and connects with his students and he felt and reached out exactly when I was hitting my real low points. I very much enjoy hearing Kunjan's voice (almost) daily as I use the guided meditation recording.
Medical Professional
In the beginning of the 1990s I met Kriya-Yoga Master, Swami Shankarananda Giri from India. That was when I started to meditate seriously. Over 20 years of meditation has given me a lot spiritually. Teachings like Kriya Yoga go from the teacher to student, who then becomes a teacher himself. So, when I met Kunjan some years ago, I was convinced from the first moment, that he would be one of the right heirs to pass on these techniques.
Kunjans teachings are easy to understand, but nevertheless of a profound nature. His teachings are filled with the explanations needed. Every second one can feel how much it means to him, to pass on the abundance of Kriya Yoga to his students. Needless to say, Kunjan's life is centered around divine principles.
Hatha Yoga Teacher
Being a Hatha Yoga teacher, I have meditated for a long time. I felt that I needed a new input to progress further. I was immediately impressed by Kriya Meditation and its ability to guide me progressively deeper and deeper. It consistently brings me to those places that with other techniques I would accidentally stumble across. I feel that with every session I learn something more, and the experience continually deepens.
Meditation gives me the inner calm and strength to face life with all it's ups and downs with a measure of equanimity. The storm may rage outside, but there is a place deep within that stays absolutely calm, untouched and peaceful.
Kunjan is a very kind and dedicated teacher. He's always there to answer questions and support us in our practice. His way of teaching is clear, authentic and easy to understand, and I feel fortunate to learn from his long experience with Kriya.
Tatooist
Dear Kunjan,
I hope this message finds you well.
It has been close to a year that I have been on the road now. I meditated almost every day, allowing myself sometimes a few days off, only when the location or spirit wasn't fit for it.
I have gone through some fantastic stages of Kriya and I am so glad and thankful I discovered this practice.
Thanks to you for teaching me this yoga, it is truly essential!….
Teacher
…It takes a bit longer now most of the time, but I can go more into depth. The feeling of time and space becomes a bit loose. Sometimes I feel like I am far away from the actual time and space I am in. I even reach a state sometimes where I am in a sort of electric channel that leads before birth.
When I am there, I do not feel boundaries. It's a bit like being in the cosmos….
Teacher
I also wanted to thank you very much for your teaching. I think Kriya is the best thing I have done this year and I am very grateful to be able to practice.
I finally have the impression that I am on the right path and this is huge.
Educator
I have never worked so much, I am very productive.
I feel more and more the need to not sweat the small stuff and to really concentrate on what now feels important to me: giving what I have to give and spending so little time as possible doing something that has no impact (or little) on the world.
When I think of what I now do in a day compared to what I used to do two years ago for example, I feel really blessed to be so motivated and to find enough energy.
I grant so much less importance to what people think of me and have much better thoughts about people than before.
I am much less afraid to do some things.
I am much more at ease with being who I am.
People are nicer to me and I keep wondering why (it still surprises me).
I feel like I am coming back to myself, to what I was in the past. At the moment I think I am as I was when I was approximately 11 or 10 years old, which is great, because I was a better person back then.
I am much more straightforward: I tell things how they are and I am much less concerned about saying things. I feel more the need to express things than before.
I am more concerned about giving love to people, I smile more and I feel more at ease with them, I also grant much more importance to togetherness and to making people feel like I am with them.